A major Exhibition of Sharon Withers' paintings is due to open on Thursday 10th November at No Naked Walls Bramley between 6pm – 9pm.
Sharon studied at The Slade School of Fine Art graduating in 1999. She then became a finalist of the Gilchrist Fisher young landscape artist award in 2000 and has continued to show with numerous Galleries and Art Fairs since then. Sharon went on to open No Naked Walls Galleries in Chertsey & Bramley in 2011 alongside her art career.
Sharon is well known for creating large scale dynamic abstract landscape paintings and triptych's.
We do hope you can join us for the largest exhibition of Sharon's paintings to date! We look forward to welcoming you to the gallery. Please rsvp your attendance to info@nonakedwalls.co.uk.
The Exhibition will continue throughout November.
More of Sharon's paintings can be viewed and purchased on her page nonakedwalls.co.uk/product-category/sharon-withers-abstract-landscape-paintings-for-sale.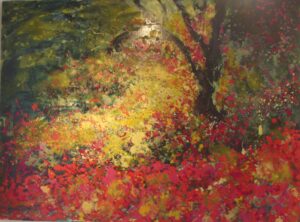 Celia Wilkinson Solo Exhibition opening night photographs
August 21, 2016
Sharon Withers Solo Exhibition Opening night photos
November 16, 2016