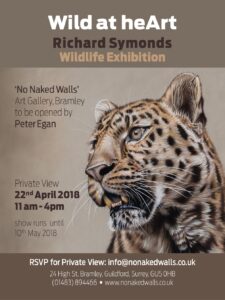 NO NAKED WALLS HOSTS RICHARD SYMONDS EXHIBITION "Wild at HeART"
No Naked Walls gallery is excited to announce a new exhibition showing at their Bramley Gallery – Wild at HeART a solo exhibition of the work of wildlife artist Richard Symonds. Documenting Richard's career, the show features a wonderful selection of original pieces and limited edition prints at one-off prices.
Richard has demonstrated a passion and commitment to wildlife over the course of his successful career.  Entirely self-taught and pursuing a string of commissions including amongst others Harley–Davidson, the London Philharmonic Orchestra and the BBC, he decided to concentrate solely on painting and drawing wild animals in their natural habitat. Following his continuous passion and love of wildlife, Richard soon found himself on safari in game parks throughout Africa.
Each research trip brings its own highs and lows, seeing the wonders of the natural world, but also the destruction inflicted by man, through poaching, hunting and the widespread abuse of animals.
It is because of this that Richard has pledged to give back to the wild which inspires his art by raising funds through the sale and auction of his originals and prints. His chosen charities include: Animals Asia, The Born Free Foundation and the David Shepherd Wildlife Foundation.
This special exhibition opens on Sunday 22nd April 2018 at No Naked Walls Gallery, Bramley with a very special private view opening at 11am. Opening the exhibition will be actor and wildlife advocate Peter Egan. Peter is well known for starring in many popular shows including Downton Abbey, Midsomer Murders and Ever Decreasing Circles. Please contact the gallery for your invite to this special opening event info@nonakedwalls.co.uk. The exhibition then continues until Thursday 10th May. 
Richard Knight "Urban Mix" Exhibition opens at NNW Bramley Saturday 17th February
January 15, 2018
Richard Symonds Q&A session and live painting demo on Saturday 28th April
April 24, 2018